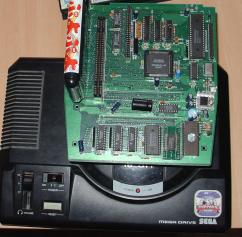 ► Presentation
This backup unit let you save to floppy a cartridge and then load it later in memory (without the cartridge)
All the roms you could find over the net come from this kind of unit.
The DPF can backup Genesis and SFC games.
A friend lets me use his DPF to test my demos.
Unfortunaly, in storage for a long time, it didn't work.
I so opened it to repair it.
I wasn't too long, I apply the remove-replace chips method.
I think a capacitor (C38) is bad because I'm unable to play a cartridge directly.
By the way, this is what I found while trying to repair it.
Please note I no longer got it : I acquired a SMD so I gave it back to my friend.
► Components
Quantity

Number
Description

Datasheet

6

HYB 514800AJ-60
4M Ram (512kb*8) - 60ns (on the ram board)

3

SN74LS245N
Octal bus

1

GM76C28A-10
16k SRAM (8kb*2)

1

M5M5256FP-154
256k SRAM (32kb*8)

1

M5L27512K
Eprom 512k

1

74LS13
Dual 4 input NAND

2

74HC139N
Dual 2->4 decoder

1

PALCE20V8H-25PC/4
Flash CMOS 20 input 25ns

2

PALCE16V8H-25PC/4
Flash CMOS 16input 25ns

1

GM82C765B
Floppy disk controler

1

EP1810LC-45
FPGA (?)

1

74HC00AP
Quad 2 input NAND

1

AN7805
5V regulator

1

16KHz clock
► Inside
Front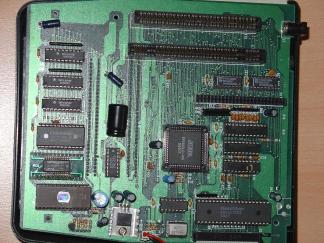 zoom (400k)
Back (with floppy drive)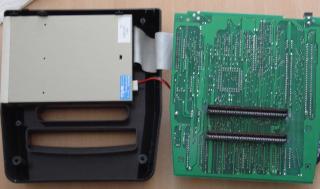 Ram board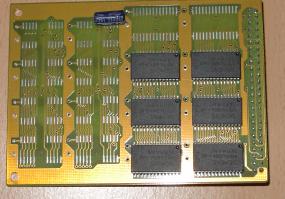 zoom (300k)
Genny Cart adaptator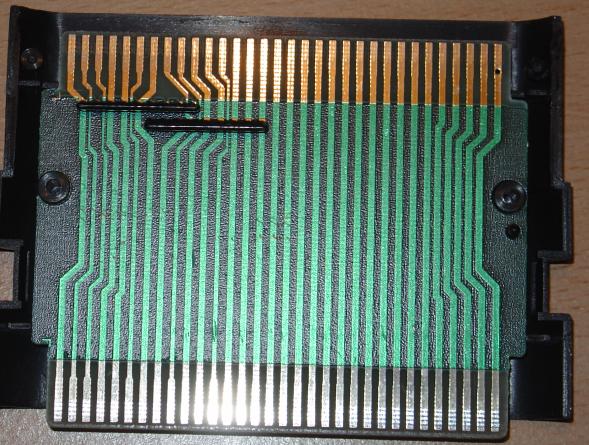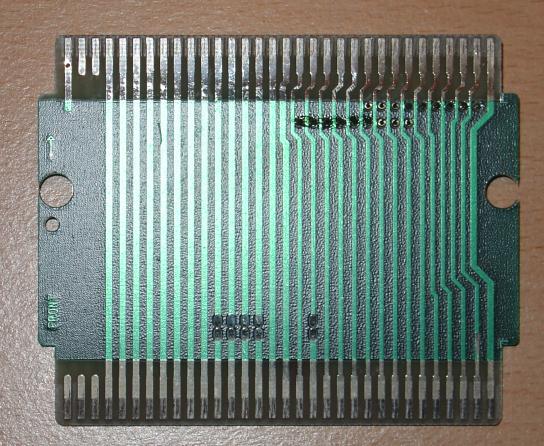 ► Links
DPF Bios info (in japanese)

Qjimbo dumper workshop, with bios dump (mirror)