Hi all,
As I can create a Thread, here is this project that I talked about on another topic, Papi commando.
As you may know, I'm an independent developer, who has a full-time job.
Maybe you enjoy (or not !! :p ) to my previous productions (Papi commando WM and Bomb on Basic City SD)
After finishing my last game, Bomb On Basic City, I wanted to change style ...
I've always liked sports games on console, especially tennis games! So, I figured, why not on Megadrive !

In homebrew, sports games are rather rare or even inextent!
Started 6 months ago, I realized a first demo that I then shared.
http://youtu.be/Gh_ZUcI5Iw8
In this regard, a playable demo has been widely distributed on the WEB!
You can train against a Training Robot or play against a player controlled by an AI, "The Doc"!
ROM :
https://dl.dropboxusercontent.com/u/108 ... Tennis.bin
(This Demo has been built with BasiEgaXorz !)
Graphically, we were very close to my old productions ...
I wanted to change completely style, for a more realistic rendering and above all, change DevKit.
So I turned to SgdK, fabulous devkit that allows more possibilities than Bex. Much more complete!
(As a reminder, SgdK allows to program in C, BEX in Basic.)
From then on, I really exploited the graphics capabilities of the console thanks to the internal tools of SgdK!
This was the beginning of a new adventure !
New animations, a very detailed tennis court, a lively audience, etc ...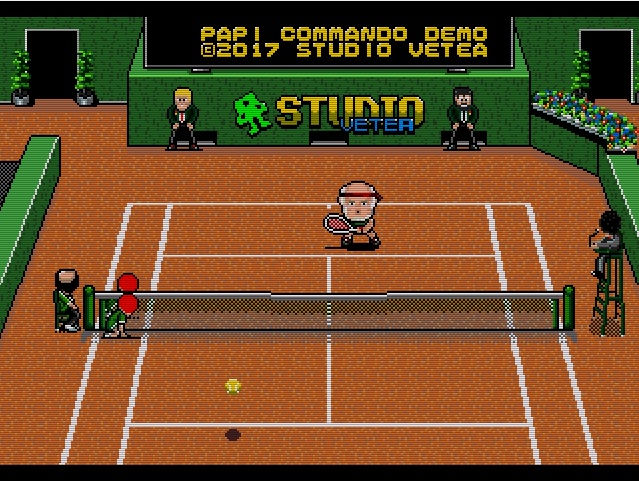 What I want to do is a mix between Simulation and arcade!
As I work alone to do everything (Code, Artwork, sound, music) I do with my technical level and above all, realism for not doing anything.
I can't use the prestigious tournament name like Roland Garros, or use the known player name ... So I'll use the world I created before, Basic City, C ++, Javascribouilles and new unreleased characters To include them in the project!
I will try to create 10-20 original players as well as a prestigious tournament, the Basic City Tournament!
As well as other small tournaments.
Also, a 2-player mode will be provided.
Also the ability to have players with their own characteristics (Power, endurance, speed, ...) and be able to improve their player with experience.
I will not use the support of the Kickstarer ... Because I do not have the use!
As I take care of myself and the tools I use are free, no interest.
And then I do not like this support there even though it understands its usefulness for many independent developers or studio.
To conclude, here is a video showing all the work that has been done to date.
http://youtu.be/O6uqRl033qc
And the Latest video WIP 6 May 2017 !
http://youtu.be/-LyAJQ_NvU0
Thanks again for your messages and support!
I'll soon get you to next news.
Cheers,
Vetea