So I am trying to get an Eagle sprite to appear and fly across the screen for the "FMV" intro on my Ultra Air Hockey
homebrew game
, but, despite analyzing the Sonic SGDK sprite sample and the SGDK doxygen documentation to death, can't seem to get the Eagle to appear, despite following (what I think is) the basic principle. By "Sprite Engine", I am referring to the newly introduced methods in
"sprite_Eng.h"
,
not
the "vdp_spr.h" methods. I am currently refactoring the project from a failed BEX attempt to an improved SGDK attempt, since it has more features I need built-in (sprite collision, trigonmetry, fixed-point, etc).
Anyways, the main problem is that the sprite's tiles do not upload to the VDP VRAM and the 1st VDP sprite list entry does not update for the sprite, according to Gen's VDP debug screen. The eagle does not appear at all. My sprite is supposed to have only 1 animation with 1 frame; however, I added a dummy frame to the spritesheet just in case an actual array of frames is needed for the SpriteDefinition struct. I noticed in the Sonic example, no VDP_ methods are used to upload the sprite's tiles, so I am assuming that the SPR_initSprite() method actually uploads the tiles to the VDP VRAM's offset for the
sprite engine tile cache
.
I start my FMV code by loading a background image, initializing the sprite engine to 15 tiles for the eagle, and verifying that the Sprite Engine does indeed init (it does, because "PASS!" is displayed on the screen). I then initialize the sprite's properties using PAL2 as the palette, set PAL2's contents to its palette, and then set the sprite's animation and frame to 0,0. Lastly, I move the Eagle across the screen, and display the foreground text image afterwards.
To show what the FMV is supposed to do but doesn't:
Old BEX FMV
New SGDK FMV (bugged)
Relevant and abridged code:
FMV.c:
fmv.h:
Sprites.res:
Sprites.h: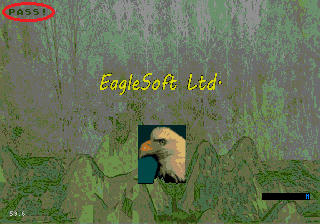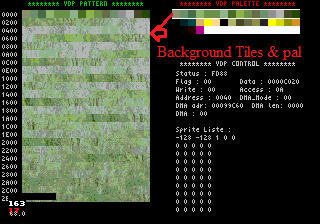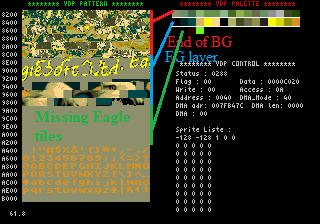 ...and the current
ROM source
What am I doing wrong? I
really
need to learn how to fix this, and deal with the sprite engine in order to fix the FMV, and, more importantly, begin working on puck and paddle movement and collisions.
Thanks in advanced!