Moderator: KanedaFr
Very interested
Posts: 683
Joined: Sat Feb 18, 2012 2:44 am
---
Very interested
Posts: 484
Joined: Sat Mar 05, 2011 11:11 pm
Location: Berlin, Germany
I am really glad that you met your Kickstarter target

UMDK Fanboy
---
Very interested
Posts: 209
Joined: Sat Sep 08, 2012 10:41 am
Contact:
TANGLEWOOD is now in BETA
Definitions of beta can vary from studio to studio, here's ours:
As far as the development team is concerned, the game is complete
All content is in the game - all levels, mechanics, sprites, sounds, animations, puzzles, menus, score screens, credits, save passwords, collectables, secrets
All assets in the game are final
The game can be played from start to finish, with all collectables, in one or more sittings (using save/load system), without encountering any problems
Between beta and gold, we've permitted ourselves to make only the following changes to the game:
Priority bugs found by QA (game blockers, crashes, major graphics/audio issues, save/load problems)
Performance improvements
Certification failures
Anything required for burning the ROM to cart (header, checksum, padding, data alignment, endianness, etc)
Anything required for publishing (PEGI logos, legal notices, ident screens)
Additions to the credits
Priority tweaks to game content within reason (changes must have high value, minimal risk, must not change memory usage)
Any change whatsoever requires a full QA pass, so we're being understandably frugal with any modifications from this point on.
What happens next?
The next stage is in QA's hands. We've begun our internal QA sessions - scouring every corner of every level and every mechanic trying to trick the game into failing - and we will fix anything we find before handing over to an external QA team to do it all over again. We'll continue this cycle until the game is deemed a high enough quality for the general public, then send it to the factory to be burned to EPROMs.
In the meantime, there's a lot to prepare for publishing. The game needs a PEGI rating - they were understandably confused to receive a submission for a 30 year old console, but a process is now in place! We also need to complete the emulation wrapper for the Windows, Mac and Linux versions, and finish our Steam storefront, which needs to be done before the manufacturing stage due to the turnaround time for its own QA pass and Steam submission.
We're still on track for a late May/early June release
We believe the date from our previous update is currently still accurate. Obviously this isn't entirely in our hands so that's not a guarantee by any means, it depends what the QA team discovers. Testing and fixing is an iterative process with an unknown number of cycles, but from the current state of the game we're quite confident we've allocated the appropriate amount of time for bug fixing before hitting that Gold 1.0 milestone.
If this changes, you'll be the first to know.
Red Edition and Collector's Edition artwork
We have a sneak preview of the alternative artwork for the Red/Collector's Edition!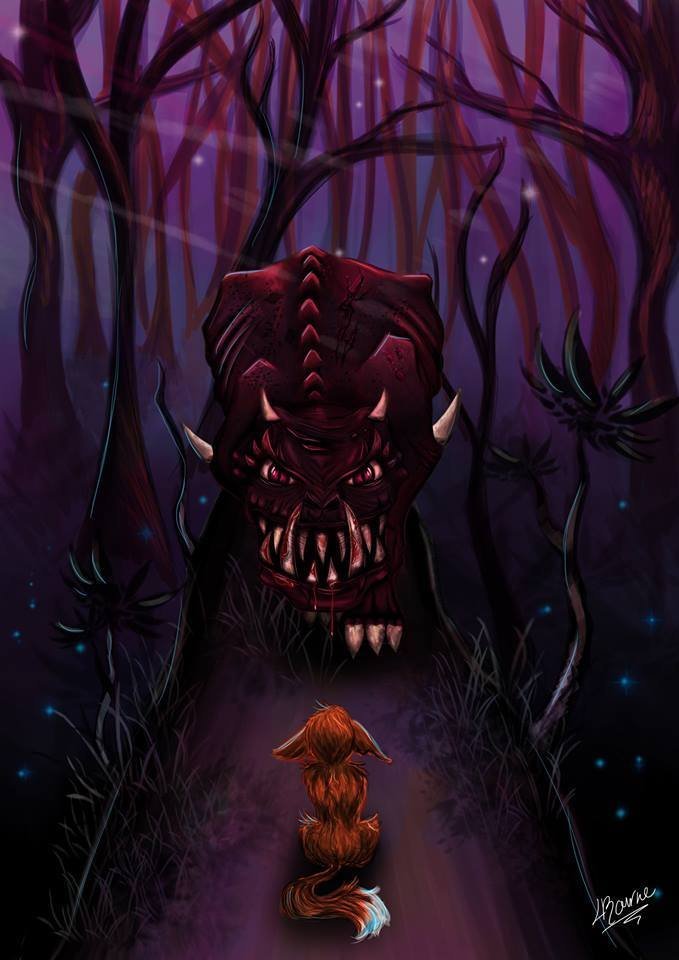 Artwork by
Just Slightly Annoyed
. These editions have a reversible cover so Red/Collector's backers will be getting both.
New Checkpoint System
One of the biggest pieces of feedback we had from demonstrating the game at events was that players didn't understand the checkpoint system - previously, checkpoints were triggered by game events, and players had no visual cue that they'd reached a safe point in a level, or where they would return to if they died. We've revamped the system and added these checkpoint totem poles:

The totems light up when the player reaches one, and you return there if you die. They also take the player's current colour!
TANGLEWOOD nominated for GDWC award
TANGLEWOOD has been nominated for a
Game Development World Championship
award in the Fan Favourite category! Voting goes live on Monday 2nd April, we'd be grateful if you could drop by and give us a vote!
Merch by GamersUnite
Our friends over at GamersUnite have been handling some
merchandising
for us - currently t-shirts and hoodies are available. They're super soft!
Other happenings
A few titbits from our Twitter feed on what else has been going on:
Pre-order PR Campaign
We still haven't begun our PR campaign or launched our pre-order trailer, since we're waiting on paperwork, but it's coming very soon!
The Making of TANGLEWOOD
We have a plan together for how to format the Making of TANGLEWOOD e-book. We've got loads of content - scraps of concepts, stories and anecdotes, cut material, a timeline of events - it just needs sorting through and writing about. We may hire a professional to help with this.
Computerphile Video
You can watch more about how TANGLEWOOD was programmed in a
new video by Computerphile
- I show how to initialise the Mega Drive's GPU and turn the screen red in 106 easy steps!
Boxed Edition Photo Prints
We've started planning which signed prints to include in the Kickstarter/Megafounder editions (one of the stretch goals). We could either take some nice screenshots of the game itself, use concept art, get some more drawings commissioned, or a mixture. We'll keep you posted.
Onward to Gold build 1.0!
Thank you to everyone for your patience, this delay has been troublesome but we very much think it has been worth it. The game is in a fantastic state and the improvements made since our original estimated completion date have definitely been worth holding it back for. It's going to be a long slog working through QA but that Gold 1.0 build is in sight!
Matt <3
---
Matt, your work is inspirational. I hope to be able to make Mega Drive games in the future, and your work is like a blueprint of what to do! I'm looking forward to seeing the finished, crafted product at the end!
---
Very interested
Posts: 2849
Joined: Fri Aug 17, 2007 9:33 pm
Got my Tanglewood cart yesterday. I love having a nice case and a physical cart. Very nice quality item, well worth the money to any Sega enthusiast. And coming right on the heels of my Tanzer cart arriving, it's like Christmas in March!

---